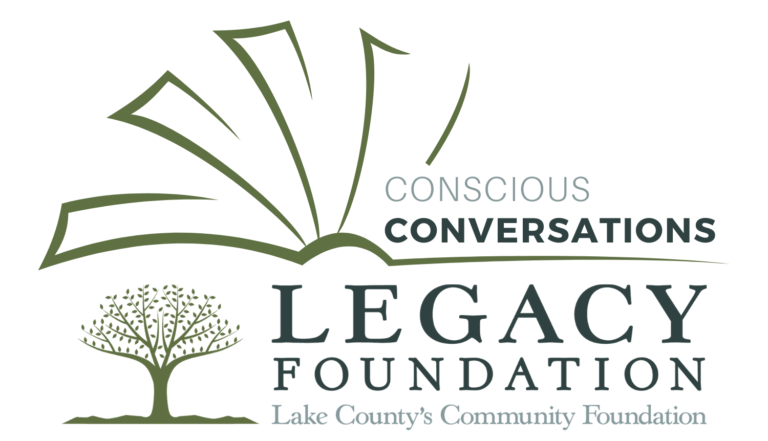 Conscious Conversations
There is power in stories. They can help us understand ourselves and the world around us. Through generations and across geographies, stories have roused our emotions, stoked our curiosities and sparked conversations. Join us for a series of Conscious Conversations around books that made an impact on Legacy staff members. Our hope is that these stories will guide us toward a more equitable and inclusive Lake County, Indiana.
Check back soon for our next scheduled Conscious Conversation! 
Host your own conversation
Hosting your own conversation is easy!
Select a title from our library
Invite friends to join you in reading.
Download your selected book's guide below and gather to have a conversation.
Looking for a book? Contact Maranda Fishback-Engquist at mfishback@legacyfdn.org to request a free copy from our Diversity Library!  Books are available to Northwest Indiana residents on a first-come-first-served basis.
Past Conscious Conversation Materials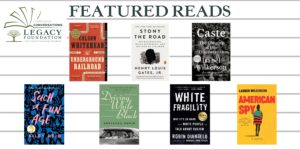 January 2021:
The Underground Railroad by Colson Whitehead
Download the Discussion Guide
February 2021:
13th directed by Ava Duvernay
Download the Discussion Guide
March 2021:
Stony the Road by Henry Louis Gates Jr.
Download the Discussion Guide
April 2021:
Caste by Isabel Wilkerson
Download the Discussion Guide
May 2021:
Video: James Baldwin vs. William Buckley, 1965 Debate
Download the Discussion Guide
July 2021:
Such a Fun Age by Kiley Reid
Download the Discussion Guide
August 2021:
Driving While Black: African American Travel and the Road to Civil Rights by Gretchin Sorin
Download the Discussion Guide
September 2021:
Short films:
Larry From Gary directed by Dan Rybicky
From Sundown to Sunrise directed by Pat Wisniewski and Tom Desch
October 2021:
White Fragility by Robin DiAngelo
Download the Discussion Guide
November 2021:
American Spy by Lauren Wilkinson
Download the Discussion Guide
Thank you to our sponsors!