On the Table Lake County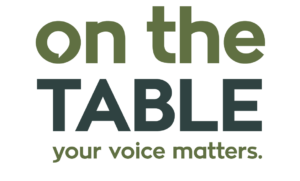 On the Table gave residents the opportunity to share their vision for improving Lake County communities through a day of civic conversations. Legacy Foundation listened and learned from, and used residents' feedback generated from the On the Table conversations in its strategic planning process. Additionally, the Foundation used this information to guide its grantmaking and to establish new connections and collaborations. All data from the post-conversation surveys has been made available to the public and shared with leaders and residents throughout Lake County to help individuals and organizations better understand the needs of the community.
Over 3,600 region residents representing 19 cities and towns in Lake County, Indiana, gathered to have meaningful conversations about their communities. Their conversations covered topics like workforce development, crime and public safety, public transportation, small business and entrepreneurship support, and issues affecting youth
Year 3 On the Table Wrap-Up
Survey Data and Reports
On the Table brings people together across the Region to break bread and engage in conversation about ways to improve our communities. Anyone can host a conversation with as few as 6 people. Guests discuss community challenges and brainstorm solutions. The conversation may lead to projects that people or organizations in your community can do. Explore what data from the past years has shown us.
Tyrone and Michelle Spann
Carolyn Saxton
Community Action Awards
Just as your voice matters, what you do matters. Each year of On the Table, Legacy Foundation granted out $10,000 in Community Action Awards for participants to take action on ideas coming out of their.  discussions. From 2017 – 2019, we saw how 30 projects and $30,000 could spark change across neighborhoods.
2019 Awards
| Organization/Host Involved | Project Name | Project Summary |
| --- | --- | --- |
| Boys & Girls Clubs of Greater NWI | Junior Staff Program | A small-group program that provides teen members with age-appropriate skill-building opportunities and hands-on Club work experiences. |
| Building Brickies - Hobart School Corporation | B.R.I.C.K (Building Relationships in Childcare to Kindergarten) | B.R.I.C.K brought together local Family Child Care (FCC) providers to create a cohort. B.R.I.C.K offered training, quality improvement, and networking. |
| Carmelite Home | Together We Rise | Together We Rise is a project developed by the teen residents of the Carmelite Home in East Chicago to assist those facing homelessness. The project created "Rise Up Packs" with essential care items with motivational poetry and art created by the youth. |
| Emmanuel Lutheran Church | Woke Club Community Involvement | Students adopted a block in need of appearance improvement, sent out letters of support to the community, met with community stakeholders, and organized a block club to sustain their efforts. |
| First Christian Church of Highland | Educational Farm-to-Table Garden | This garden taught people of various ages and abilities to garden and grow produce from seed to harvest. In addition, it offered healthy cooking classes to help people connect what is grown in the field with what appears on the plate. |
| Hammond Development Corporatopm | Business Bookkeeping Program | The Business Bookkeeping program was a 12-week course, which met once per week, taught by a certified accountant. |
| Latrice Riggens | OrganiWorks | Host grocery shop educational classes to teach people how to make healthy meals for their families, starting at the grocery store. |
| Mental Health America of Lake County | Safe Sleep Challenge | Social media participants challenged new parents in their network to show a picture of their baby sleeping safely which is Alone, on their Back, and in their own Crib (ABC). The hope was to create a viral social media message on safe sleep practices. |
| Sharing Hope Addiction Prevention Education | Wake Up Call | Provide teen drug use/addition program and resources to parents in Lowell. |
| St. Jude House | Lunch and Learn | Provide Lunch & Learn sessions to bring domestic violence education/awareness to the community. |
2018 Awards
| Organization Involved | Project Name | Project Summary |
| --- | --- | --- |
| ArtHouse | Junior Cooks | The project educated area youth on cooking and eating healthy. The classes were held at the ArtHouse in Gary from January 2019 thru July 2019. |
| Down Syndrome Association of Northwest Indiana | Uber Independence | "Uber Independence" allowed members of the Down Syndrome Association of Northwest Indiana and Chicagoland transportation accessibility in their community using Uber gift cards. |
| First Christian Church of Highland | Seeds of Humanity Expansion | The church expanded their Seeds of Hope community garden and partnered with other groups. The project involved immediate expansion, becoming a USDA farm and providing education opportunities for farming and healthy cooking classes. |
| GFWC Lake Dalecarlia Woman's Club | The People's Supper | "The People's Supper" brought the community together by hosting bi-monthly pot luck dinners at the POA Community building. These dinners aimed to allow community members to be heard and listen deeply with good people, good food and good conversations. |
| Griffith Police Department | Giving Back Griffith | The project allowed high school students to develop leadership skills by assessing the community to identify small-scale needs and provided a service to meet that need. |
| Lake County Parks | Race the Park Challenge | "Race the Park Challenge" was a team competition where pre-teens navigated unique challenges within a park to promote teamwork and fun. |
| Northgate Church | Hopeful Holidays | The project focused on seniors in the community around the holiday season. This was done by hosting a holiday party at Golden Manor Senior Apartments. Young adults were invited to spend time with the seniors by sharing a meal and providing small gifts. |
| Northwest Indiana Coalition for Public Education | Speaking of Education | "Speaking of Education" empowered Hoosiers to advocate for education. NWICPE held five conversations in 2018-2019 to discuss issues relates to the school system. Members of the Indiana School Boards Association, the Indiana Association of School Business Officials, and legislators were invited to these conversations. |
| NWI Veterans Village | Community Clean-up Project | According to veterans at the Village, two ways that help make Lake County communities stronger is by leading by example and by giving back. The veterans at the Village led a trash clean-up event targeting their neighborhoods. Youth group volunteers and other organizations were invited to participate. |
| The Blind Social Center | Original Art for the Blind and Visually Impaired | The center had an art gallery that displayed five works of art for the Gary Blind Social Center. They displayed works that the blind could experience. They also taught and created art for people with disabilities. |
2017 Awards
| Organization Involved | Project Name | Project Summary |
| --- | --- | --- |
| AMFB Mentors | Adulting is Hard | Youth played the game of "LIFE" and visited stations such as banks, car dealerships, mortgage lenders and more! Additionally, parents participated in a workshop targeting family strengthening in financial literacy. |
| City Life Center | What's Good Gary | Group of 6th - 8th grade youth researched and interviewed those doing good things throughout the city of Gary. Interviews were conducted with a wide range of individuals: youth, adults, city leaders, etc. |
| Franciscan Health | Supporting Families from Infancy to Adulthood | Project consisted of planning, implementing, and evaluating a pre/post natal education event. The event provided education as well as other incentives (diapers, wipes, gas and grocery cards, etc.) towards lifting some burdens or barriers to the root causes. |
| Gary Commission for the Social Status of Black Males | Engaging Young Black Women | Hosted an event in Gary, IN where young African-American women from Gary discussed challenges they face and solutions to how they can help create policies for the Commission to present to the Gary Common Council and Mayor. |
| Girls on the Run of NWI | Field Trip | Matched up two Spring Girls on the Run sites, in opposite parts of Lake County, and sent each team on a field trip to their "Sister Site." The girls had a chance to get to know each other, as well as be exposed to an entirely new community. |
| Lady's N Charge | No Child Left Hungry | During Thanksgiving, packed baskets that included a full turkey meal to give to needy families. Families were chosen through social workers at schools as well as women's shelters. |
| Miller Beach Tourism Bureau | Miller Beach Photo Contest | Officially launched the Miller Beach Tourism Bureau with a photo contest. Awarded cash prizes to the residents and visitors whose photos best evoked the theme. |
| Open Heart Therapeutic Riding Center | Building Up | Built a movable stepping stone/wheelchair accessible ramp for physically and mentally handicapped children to assist in "mounting" the therapy horses. |
| School City of Hobart Building Brickies | Connecting the Community | Hosted a monthly free networking dinner to build community relationships through community service. |
| Steel City Academy | Steel City Landscape | A student led initiative and business that beautified the community and created safe spaces for recreational activities by allowing students to garden and landscape. |



Learn More About the National Movement
Legacy Foundation's On the Table conversations was part of a national initiative funded by the John S. and James L. Knight Foundation. On the Table replicates an annual civic engagement initiative of the same name developed by The Chicago Community Trust in 2014. Support for On the Table advances Knight Foundation's work to help cities attract and keep talented people, expand economic opportunity and create a culture of civic engagement. Knight Foundation believes that successful communities are equitable, inclusive and participatory.