City of Gary ARPA Grant
Legacy Foundation has partnered with the City of Gary to assist with the distribution of American Rescue Plan Act (ARPA) funds to nonprofit organizations for programs and projects serving the residents of Gary, Indiana. The City of Gary will be awarding up to $500,000 of ARPA funding.
City of Gary ARPA Grant Information Session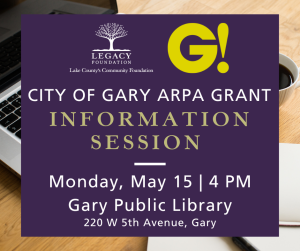 On May 15, 2023 Legacy Foundation and City of Gary staff hosted an information session to provide for an overview of the City of Gary ARPA grant application portal and grant requirements.
City of Gary ARPA Grant Details
Eligibility and Criteria
Applicants must be a 501(c)(3) or 501(c)(19) tax-exempt organization.
Applicants must be in good standing with the IRS.
Projects must serve residents of Gary, Indiana.
Priority will be given to nonprofit organizations located in the City of Gary.
Only one application may be submitted per organization.
Organizations that have already received ARPA funding through the City of Gary are not eligible for funding.
ARPA Grant Policies and Guidelines
Grant awards will range from $2,000 to $50,000.
Grants will fund 12-month projects.
Funding will be provided for the following purposes:
Programmatic/service delivery

The prevention or reduction of the spread of the COVID-19 virus

At the non-profit business location, in program delivery model, and in the community (public spaces);
Through vaccination programs (incentives are allowable as long as they are expected to increase the number of people who choose to get vaccinated and are reasonably proportional to the expected public health benefit).

Services that can identify a need or negative impact of the COVID-19 public health emergency and identify how the program, service, or other intervention addresses the identified need. This includes immediate or future negative impact.
 Operations support to help alleviate negative impacts on nonprofits and the clients they serve, including:

Mitigation of financial hardships from declines in revenues and/or donations.
Increase in costs due to inflation and uncompensated increased demand for services.
Organizational technical assistance
Proposal Examples
An internet access assistance program for all households with children to support those households' ability to participate in healthcare, work, and educational activities like extending learning opportunities, among other critical activities.
Food Banks, churches, pantries, or other food delivery services to address food insecurity.
Developing outdoor spaces to allow clients or the public to interact in a way that would prevent the spread of COVID-19.
Operations support to help recover from loss of funds between 2020-2022.
How to Apply
The deadline to apply is 5 PM CST on June 18, 2023. Applications will only be accepted through Legacy Foundation's online grant portal. Interested organizations should use the link below to complete an application. For questions please contact Edward Vega, Sr. at evega@legacyfdn.org or 219-736-1880.