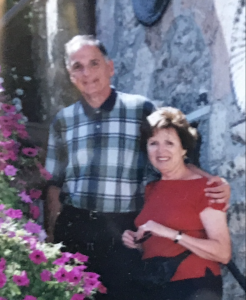 Donate Today
Dr. William and Margaret Morris Academic, Athletic, & Service Scholarship
Dr. William (Bill) and Margaret Morris were married for 58 years and leave behind a legacy of service. Among many accomplishments, Bill established the Pediatrics Department at the Hammond Clinic. Margaret helped initiate the Gifted and Talented Program within the Munster School Corporation, was a long-time member of the Service League of Northwest Indiana, and volunteered extensively.
The couple hailed from North Carolina and spent time in Baltimore, while Bill completed his residency at Johns Hopkins Hospital. After residency, Bill entered the Army Medical Corps at Fort Rucker, where he established the pediatrics department at the base hospital. While at Fort Rucker, Margaret and Bill's first two children were born: Ann Elizabeth ("Beth") and William Harold ("Hal") Morris III. In 1965, Margaret and Bill left Fort Rucker for Munster, Indiana, where they welcomed their third child, Robert David ("Bobby") Morris and lived the remainder of their long, impactful lives.
The Morris's were their children's biggest cheerleaders through baseball games, swim meets and music recitals. Their unflinching encouragement reflected their values and made indelible impressions on the lives of their children and grandchildren. Hal and Bobby became professional baseball players, with Hal winning a World Series with the Cincinnati Reds in 1990, and daughter, Beth, was a competitive swimmer.
The Dr. William and Margaret Morris Academic, Athletic, & Service Scholarship will continue to encourage the values they espoused by recognizing high achieving students who are active in sports and community service.
Donate Today
Contact
Legacy Foundation, Inc.
370 E. 84th Drive, Suite 100
Merrillville, Indiana 46410
Tel 219-736-1880
https://legacyfdn.org