Knight Foundation Fund for Gary, Indiana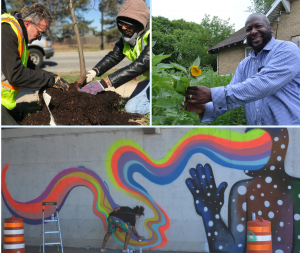 Knight Foundation supports democracy in America by fostering informed, engaged, and equitable communities. The foundation invests in journalism, arts and culture in community, research in areas of media and democracy, and in the success of 26 cities and towns where John S. and James L. Knight once published newspapers. In 18 communities, the Foundation has endowments in the local community foundation and serves as the donor advisor.
Knight Foundation views local community foundations as both important partners in sourcing ideas for our strategic grantmaking, and leaders and conveners in each Knight community. We seek to be a funder of opportunities for the future of each community and seek to build upon local momentum, assets, and resources – often focused geographically in the downtown core. We are open to prototyping new ideas to support local leaders and organizations.
Grant Focus – Talent attraction and retention through downtown revitalization and blight reduction
Knight supports Gary's goals for talent attraction and retention, economic opportunity in the downtown and nearby communities, and mitigating the population loss. We invest in this core city vibrancy by supporting entrepreneurship, creative solutions for blight reduction and places that bridge economic divides.
Tactics leveraged:
Building on Assets: better connecting the community to key assets like universities, corporations, or nature.
Public Spaces: enhancing the public realm to be more connected and vibrant.
Civic Engagement: breaking down barriers between residents and decision makers; engaging underrepresented communities in civic life and leadership roles.
Knight Foundation Grant Opportunity
Organizations interested in applying for a Knight Foundation grant should submit a letter of interest form to Legacy Foundation by 5 PM Central on July 14, 2023. Those selected to submit a full application will be notified by July 28, 2023 and will have until August 28, 2023 to submit a full application. 
Submit your letter of interest form
Eligibility and Criteria
Applicants must be a 501(c)(3) tax-exempt organization OR government entity (such as schools, hospitals, libraries)
In good standing with the IRS
Projects that are geographically focused on Gary, Indiana
Projects focusing on downtown Gary (the area around 5th and Broadway) will be given priority for Knight Funding
Ineligible Applicants and Projects Include:
Individuals
Businesses/For-Profit Companies
Inherently religious activities such as religious worship, instruction, or proselytization or activities that promote specific religious doctrine
Associations for activities directly benefiting their members
Requests for partisan political or lobbying activities
Fundraising
Debt
Capital Campaigns or endowment building
Medical research
Award Amount:
Organizations can request up to $100,000.
How to Apply:
Interested organizations should use this link to create an account on the Legacy Foundation grants portal and submit a letter of interest form by July 14, 2023. Only letters submitted via the grants portal will be accepted. Questions may be directed to Edward Vega, Sr. at evega@legacyfdn.org or 219-736-1880.