U.S. Steel/City of Gary Indiana Charitable Fund & Knight Foundation Fund for Gary, Indiana
The U.S. Steel/City of Gary Indiana Charitable Fund was established in 2022 to support organizations whose programs or activities serve the residents of Gary, Indiana. The primary goals of U.S. Steel contributions are to positively impact the communities that U.S. Steel calls home and to enhance and improve the quality of life in those communities.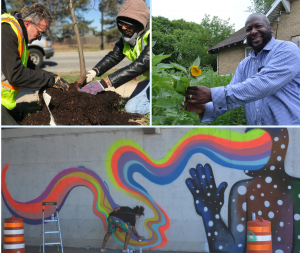 The John and James L. Knight Foundation Fund was established at the Legacy Foundation in 2002. The strategy for 2022 is talent attraction and retention through downtown revitalization and blight reduction. Knight supports Gary's goals for talent attraction and retention, economic opportunity in the downtown and nearby communities, and mitigating the population loss (-14%). We invest in this core city vibrancy by supporting entrepreneurship, creative solutions for blight reduction and places that bridge economic divides.
Knight Foundation Tactics leveraged:
• Building on Assets: better connecting the community to key assets like universities, corporations, or nature.
• Public Spaces: enhancing the public realm to be more connected and vibrant.
• Civic Engagement: breaking down barriers between residents and decision makers; engaging underrepresented communities in civic life and leadership roles.
Those interested in applying for a grant from either of these funds at Legacy Foundation should interact with Legacy Foundation staff rather than directly with U.S. Steel, Knight Foundation, or the City of Gary.
2022 U.S. Steel and Knight Foundation Grant Opportunity
Legacy Foundation is now accepting applications from nonprofit organizations for programs and activities serving the residents of Gary, Indiana. Applications will be accepted until 5 PM central on July 13, 2022. All proposals must be submitted using Legacy Foundation's online grant application portal.
Eligibility and Criteria
Applicants must be a 501(c)(3) tax-exempt organization OR government entity (such as schools, hospitals, libraries)
In good standing with the IRS
Projects that are geographically focused on Gary, Indiana
Projects focusing on downtown Gary (the area around 5th and Broadway) will be given priority for Knight Funding
Ineligible Applicants and Projects Include:
Individuals
Businesses/For-Profit Companies
Inherently religious activities such as religious worship, instruction, or proselytization or activities that promote specific religious doctrine
Associations for activities directly benefiting their members
Requests for partisan political or lobbying activities
Fundraising
Debt
Capital Campaigns or endowment building
Medical research
Award Amount:
Applicants may request up to $100,000. Multiple grant years might be considered if a proposal is compelling; however, are not guaranteed.
How to Apply:
Interested organizations should use this link to create an account on the Legacy Foundation grants portal. Applications will be accepted June 10 – July 13, 2022 at 5:00 pm. Applicants will be notified by August 12, 2022. Questions may be directed to Kelly Anoe at kanoe@legacyfdn.org.
Preview Application
All proposal submissions must be submitted using Legacy Foundation's online grant application portal. Use the question list below to help you prepare your proposal before visiting the online portal.
Application Narrative Questions
1. Lead organization name and grant contact person
2. Proposal summary (400 characters or less)
3. Narrative
What is the challenge or opportunity identified? How will this grant address this opportunity?
Project activities and timeline.
What makes your group the right one to do this work? What is your experience and capacity to provide this type of work?
Who will you collaborate with and what will be the roles of each of the collaborators?
What results do you expect to achieve and how will they be measured? What are the desired outcomes?
How will you continue the positive outcomes of the effort beyond the funding period? If this is not intended to be a sustainable effort, please explain why.
What will you do with grant funds?
4. Budget (may be submitted as separate attachment)