Knight Foundation Fund for Gary, Indiana
The Knight Foundation Donor Advised Fund was established at Legacy Foundation in 2002 by the John S. and James L. Knight Foundation. Through its Communities Program, Knight Foundation uses Donor Advised Funds at local community foundations to make investments in the 26 communities where brothers John S. and James L. Knight once owned newspapers. Gary, Indiana is one of the 26 communities, with Legacy Foundation as the designated community foundation partner.
Those interested in applying for a grant from the Knight Fund at Legacy Foundation should interact with Legacy Foundation staff rather than directly with Knight.  Knight Foundation Fund grants are grants from Legacy Foundation, working in partnership with Knight to select opportunities to support.
Strategy and Priorities
Knight Foundation works to foster informed and engaged communities, which it believes are essential for a healthy democracy.   In Gary, Knight seeks to intentionally build upon existing momentum of the community, focus in geographically (downtown), while also leveraging existing assets and resources.
Knight Foundation works to inform and engage communities through three major types of work, all of which are intended to leverage existing resources and momentum:
Building on Assets: better connecting the community to key assets like universities, corporations, or nature.
Public Spaces: enhancing the public realm to be more connected and vibrant.
Civic Engagement: breaking down barriers between residents and decision makers; engaging underrepresented communities in civic life and leadership roles.
Knight Foundation supports talent attraction and retention and economic opportunity in the downtown area.  We invest in this core city vibrancy by supporting entrepreneurship, creative solutions for blight reduction and places that bridge economic divides.
SUPPORTING CITIES TO MEET THE CHALLENGE OF THE PANDEMIC IN 2021
The present and primary challenge facing all US cities, and therefore Knight cities, is pandemic response and economic recovery. To increase impact in support of Knight cities in 2021, grants that accelerate response and recovery with digital engagement approaches that focus on alignment with local strategy will be given priority.
WHY? Institutional sustainability and economic renewal
The pandemic has accelerated the digital transformation of entire industries due to its impact on how we engage in-person with each other and our communities. Institutions and governments must shift quickly to digital engagement and experiences now to meet demand, stay relevant, survive, and thrive in a post-pandemic economy. The opportunity is to invest in cities' recoveries in ways that better strengthen them for a future that is more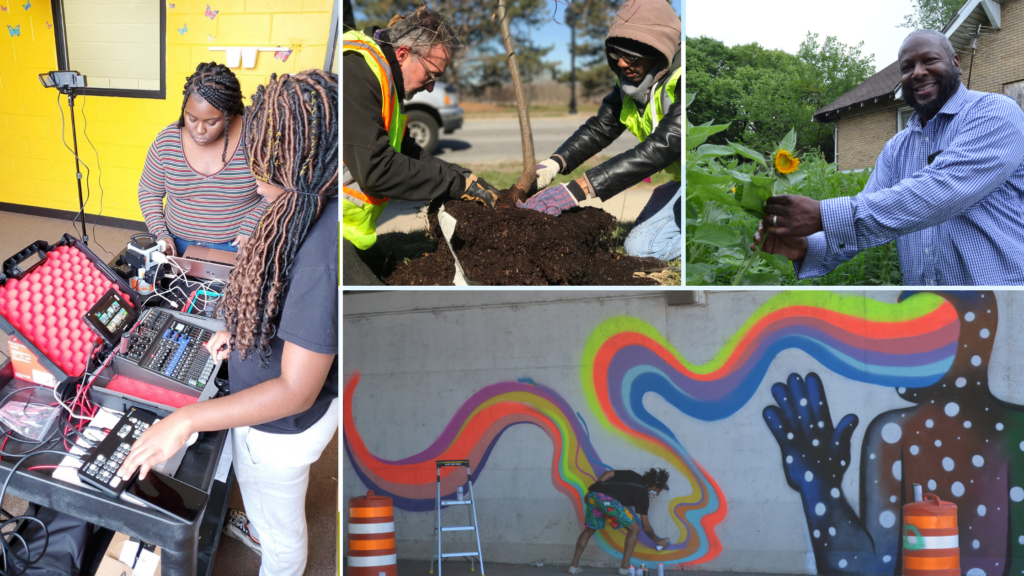 Digital Innovation and Engagement Implementation Themes
The below examples are derived from current Knight grants and the pipeline; examples are not meant to be prescriptive and are for discussion purposes. Legacy Foundation identifies specific challenges and needs that Knight is best situated to support to catalyze recovery and re-openings. In parenthesis are grants that Knight has made that fit within each framework.
Capacity building in institutions and governments for digital engagement and services
1. Knight digital fellows in government offices to support transforming in-person transactions into digital experiences, or to streamline complex digital experiences (Charlotte Smart Cities Fellow, Code for America Brigade Networks)

2. Operating support to volunteer networks that lend additional capacity toward critical pandemic response initiatives, e.g. registering for vaccination apt.

3. Technical assistance providers to support development of digital engagement channels and town halls for government-led reopening and recovery plans

4. Innovation fund to support at scale small businesses and non-profits with new digital models for sustainable business (Charlotte City Center Partners Small Business Innovation Fund, Newtown Macon's Small Business support)

Experimentation in digital civic engagement and outreach in communities to accelerate equitable and inclusive recovery
1. Partner with government to convene equity-focused digital participatory budgeting (San Jose Equity Dashboard, Follow up to CityFi recommendations)

2. Develop and study nudges with local vaccine messaging through different communications mediums (Xomad)

3. Social media campaign/digital engagement for residents in public space to inform the future design of these spaces (Rail Park, Let's Plan)

4. Investment in experimental digital tourism plan to incentivize and draw in more remote workers to move to a city (Visit Philly Campaign)

5. Partner with a non-profit that is canvassing local city streets for vacant buildings and lots, to update online retail platforms (Neighborhood Spotlight)

Downtown Gary Defined
The Downtown District is located in the north-central part of the City and is generally bounded by Madison Street in the west, 12th Avenue in the south, Delaware Street in the east, and the Indiana Toll Road in the north.
With its Indiana Toll Road interchange and South Shore Line station, the area serves as an important gateway to the community and to US Steel to the north. Major arterials, including Broadway and 4th, 5th, and 11th Avenues, provide connections between Downtown and the rest of the City. Downtown also serves as a focus point for the City's bus network.
Although it encompasses a large number of blocks, the District lies at the axis of two important thoroughfares: Broadway and Fifth Avenue. As the traditional Downtown for the City, the area contains a number of important institutional uses, including the City Hall and the Lake County Superior Court, which are housed in the twin civic buildings at Broadway and Fourth Avenue. Additional activity generators include the Indiana Department of Family and Social Services, the Genesis Convention Center, the Steel Yard baseball stadium, and the South Shore Line train station. Although many of the commercial and residential buildings in the immediate area are vacant, there are professional offices, restaurants, and some retail serving the institution uses.
Eligibility and Criteria
Applicants to the Knight Foundation Fund must be:
Exempt under IRS Section 501(c)(3).
A government entity or education institution with an innovative project within the scope of Knight Foundation Fund's grantmaking framework that benefits the community.
In good standing as a not-for-profit with the Secretary of State's office.
Multiple grant years might be considered if a proposal is compelling. However, multiple grant years are not guaranteed.
Grants will only be made to organizations for projects that are geographically focused on Gary, Indiana. Projects focusing on downtown Gary (the area around 5th and Broadway) will be given priority
Grant requests for the Knight Foundation Fund for Gary may only be made through this application process.
Due Date
Grant application will open on Monday, September 13, 2021.  Applications will be reviewed as received, on a rolling basis, through November 5, 2021.
Award Amount
Applicants may request up to $100,000.  Most awards will be around $25,000.
How These Grants Are Made Possible
These grants are made possible by the Knight Foundation Fund, a donor advised fund of the Legacy Foundation.  John and James L. Knight Foundation staff serve as the advisor to this fund.