Gary/East Chicago COVID-19 Small Business Relief Fund
Legacy Foundation and Indiana Black Expo have partnered in response to the urgent need for assistance to sustain Gary and East Chicago small businesses with their immediate financial challenges as a result of a demonstrated economic injury due to COVID-19.
The COVID-19 Small Business Relief Fund will prioritize providing assistance to small businesses through one-time grants ranging from $2,500-$5,000 per business.  Priority will be given to minority and woman owned businesses.
Funding is provided by Legacy Foundation, Indiana Black Expo, and the John S. and James L. Knight Foundation.
Grant Application Requirements
be an authorized representative of a for-profit privately held small businesses defined as enterprises of between 1 - 25 employees, with principal place of business in the City of Gary or East Chicago.
be registered as a business in the State of Indiana
have experienced revenue loss and business distress due to COVID-19.
have established on, or before January 1, 2020
have been mandated by federal, state, or local government to reduce or close services and/or have a demonstrated reduction in sales revenue due to the loss of business income related to COVID-19.
provide written justification of economic loss or injury caused as a result of COVID-19, e.g. sales or income from a previous year compared to current period. Provide documentation of a reduction of sales revenues.
pledge in good-faith to remain in business for at least 6 months following the receipt of funding.
have 2019 gross revenue not exceeding $1,000,000
have an EIN/Tax ID Number
make independent decisions regarding its name signage, brand, appearance, purchasing, practices, hiring, and distribution, and must be solely responsible for paying its own rent, marketing, and other business expenses without assistance from a corporate headquarters outside of Gary or East Chicago. Cannot be a chain or a franchise.
businesses that occupy a commercial space will be given the highest priority
Gary or East Chicago based businesses that have incurred expenses or cash flow shortages as a result of COVID-19
small businesses that may have difficulty obtaining funding from other federal or state initiatives
small businesses owned by women and minorities
businesses in the following hardest hit industries:

Restaurant
Retail
Hair, beauty, salons, barbers, day spas, saunas, tattoo shops
Laundry services
Cleaning services
Pet care services
Disabled and elderly care services
Funeral services
Personal and household goods repair and maintenance
Fitness centers and gyms
Event spaces and related event services (floral, photography, event planning)
Travel agencies
Childcare services
Applications available:  September 16, 2020
Applications due online by 5:00 p.m. CST:  October 7, 2020
Application funding decisions announced:  October 23, 2020
Only application forms with all requested supporting documents will be accepted for review.  The application form must be completed and signed by individual(s) who, individually or collectively, own fifty-one percent (51%) or more of the equity of the business.
One application per business.  
An advisory committee appointed by the Legacy Foundation will review all applications.
Funding priority will be determined based on applicant need and a clear indication of COVID-19 impact. Incomplete applications, or applications submitted after the deadline date/time will not be considered.
Submission of an application is no assurance that the grant will be awarded, in whole or in part. For additional information or help, please email southshorendc@legacyfdn.org
In an effort to make grants available to as many business owners as possible, principal owners of multiple businesses will only be eligible for one grant.
The funds dispersed to small businesses do not need to be repaid. If businesses who receive the Fund's assistance do, at a later date, wish to "pay it forward" to another Gary or East Chicago small business in need of assistance, they may do so by directing those dollars back to the Small Business Assistance Fund, which will disburse the funding to another business in need.
Publicity:  If awarded, please be advised that the business/applicant's name and other information provided during the award process may be used for promotional purposes in all forms and media and the business/applicant may be contacted by Legacy Foundation and/or the program sponsors for such purposes. Until notified, applicants must agree not to share any information publicly, including but not limited to all social media platforms, news media, or local publications.
In addition to receiving funding assistance, a primary benefit of this grant is the opportunity for small businesses to partner with sponsors to receive publicity for their small business.  Sponsoring partners will help arrange social media promotions, attend in person check presentations, share photos of community leaders patronizing select businesses, and collaborate on press releases.
If your business is selected, you will be notified via email. As a finalist, additional documentation will be required, including W-9, date of birth, TIN/ITIN and/or EIN for the applicant and/or the business.
Privacy: Information provided through the application process is the responsibility of each applicant. Applications submitted to the portal remain confidential to the general public and any fellow applicants.
Monitoring: Legacy Foundation may monitor and conduct evaluation activity. This might involve a review of quantitative or qualitative data needed to understand the impact of the fund.
Submission Guidance: Legacy Foundation cannot accept changes to your application once it has been submitted, so please review it carefully.
Phase 1 COVID-19 Response: Rapid Support Grants for Non-profits
Legacy Foundation partnered with Crown Point Community Foundation and Foundations of East Chicago to raise over $1 million. Jointly, the foundations accepted and reviewed applications and awarded grants from the Lake County COVID-19 Response Fund. Phase 1, which ran from March 30-May 18, responded to the immediate needs of nonprofits that were working to address the impacts of COVID-19 in Lake County. Grant assistance totaled $356,000 and covered food, childcare, personal protective equipment, technology, educational materials, rent/utility assistance, and medical needs.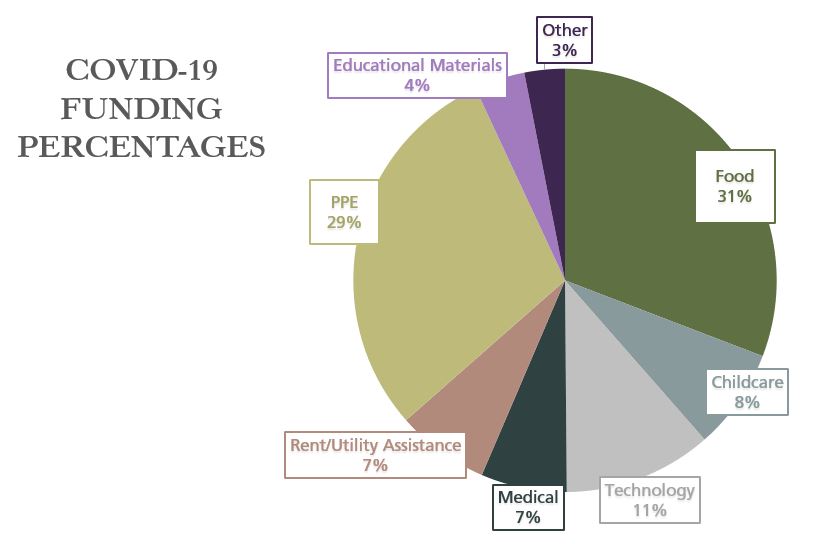 Thank you to our COVID-19 Response Fund Supporters
Legacy Foundation
Crown Point Community Foundation
Foundation of East Chicago
John S. and James L. Knight Foundation
White Family Foundation
John W. Anderson Foundation
Legacy Women in Philanthropy
Horizon Bank
Tom Sourlis and Sue Eleuterio
SEI
Phase 2 COVID-19 Response: Non-Profit Preparedness and Support for Intermediate Needs
Phase 2 of Legacy Foundation's response to COVID-19 is a comprehensive plan that will help address the impact in the community and among non-profit organizations.  This plan is a 3-pronged approach that includes Innovative Response Grants, Non-profit Staff and Board Training Scholarships, and Non-profit Capacity Building Grants. Click here to view the full plan and access grants.
Currently, 24 non-profit staff and board members have received training scholarships to further their professional development and create stronger organizations.

Lara Bates, Challenger Learning Center of NWI; Sade Carrasquillo, For the Love of the Arts; Donna Catalano, South Shore Neighborhood Development Corp.; Sandra Dafiaghor, CRWorks; Anthony Englert, Wittenberg Village; Maranda Fishback, Legacy Foundation

Kristina Fry, Humane Indiana; Stephanie Harden, Transitions Resource Center; Lisa Hughes, St. Mary Catholic Comm. School; Rachel Hurst, Meals on Wheels of NWI; Richele Kaiser, Mental Health America; Pamela Key, Women Organizing Women

Denise Mavity, Old Sheriff's House; Barbara Muckel, Dream Chaser NWI; Emma Rose, Challenger Learning Center; Amy Stevens, Dream Chaser NWI; Catisha Toney, Coates, Inc; Allyson Vaulx, Food Bank of NWI
Not pictured:
Antoinette Brumfield, FAITH CDC
Anthony Burrell, The Welcome Network
Roger Cavazos, Int'l Institute of NWI
Elizabeth Gonzales, Respite Care Services
Vanessa McCloud, Urban League of NWI
Michelle Robinson, Cause 4Paws
Community Relief Resources
Lake County COVID-19 Emergency Grants for Nonprofits
Emergency relief grants for 501c3 nonprofit organizations, churches, and government agencies
https://legacyfdn.org/nonprofits/covid19-grant/
National Restaurant Association
Restaurant Employee Relief Fund
Salvation Army of Lake County
Rent/mortgage assistance, utility assistance, medication bill assistance, hygiene and toiletry products, food assistance
https://centralusa.salvationarmy.org/lakecounty
Geminus
Call 866-641-7181
Geminus Community Partners program has available funding to assist families who are in need of financial assistance affected by the COVID-19 Pandemic. This funding can assist with rent, utilities, baby needs, emergency food, etc.
Catholic Charities Diocese of Gary
Rent/mortgage assistance, utility assistance, gift cards for fuel, gift cards for medicine or medical supplies, gift cards for groceries, food distribution and delivery, diapers and baby food, counseling services
https://www.catholic-charities.org