Phase 1 COVID-19 Response: Rapid Support Grants for Non-profits
Legacy Foundation partnered with Crown Point Community Foundation and Foundations of East Chicago to raise over $1 million. Jointly, the foundations accepted and reviewed applications and awarded grants from the Lake County COVID-19 Response Fund. Phase 1, which ran from March 30-May 18, responded to the immediate needs of nonprofits that were working to address the impacts of COVID-19 in Lake County. Grant assistance totaled $356,000 and covered food, childcare, personal protective equipment, technology, educational materials, rent/utility assistance, and medical needs.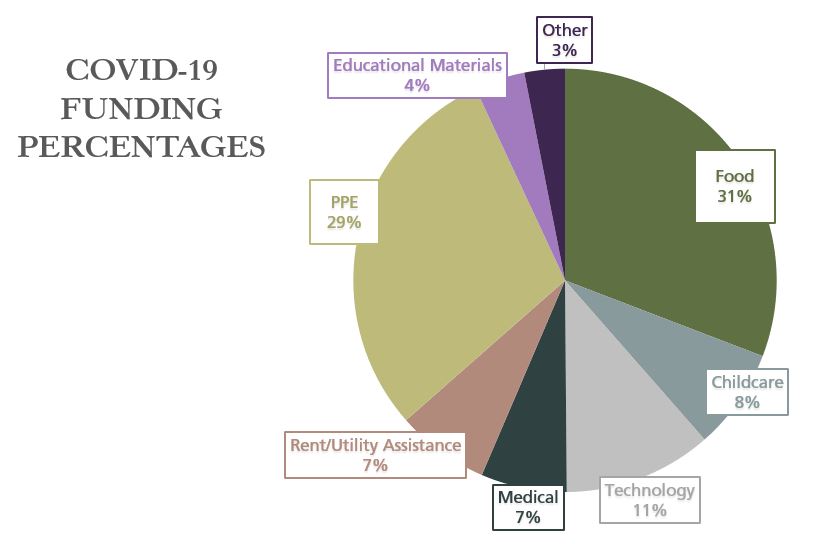 Thank you to our COVID-19 Response Fund Supporters
Legacy Foundation
Crown Point Community Foundation
Foundation of East Chicago
John S. and James L. Knight Foundation
White Family Foundation
John W. Anderson Foundation
Legacy Women in Philanthropy
Horizon Bank
Tom Sourlis and Sue Eleuterio
SEI
Phase 2 COVID-19 Response: Non-Profit Preparedness and Support for Intermediate Needs
Phase 2 of Legacy Foundation's response to COVID-19 helps address the impact in the community and among non-profit organizations.  This plan is a 3-pronged approach that includes Innovative Response Grants, Non-profit Staff and Board Training Scholarships, and Non-profit Capacity Building Grants. 
Currently, 24 non-profit staff and board members have received training scholarships to further their professional development and create stronger organizations.

Lara Bates, Challenger Learning Center of NWI; Sade Carrasquillo, For the Love of the Arts; Donna Catalano, South Shore Neighborhood Development Corp.; Sandra Dafiaghor, CRWorks; Anthony Englert, Wittenberg Village; Maranda Fishback, Legacy Foundation

Kristina Fry, Humane Indiana; Stephanie Harden, Transitions Resource Center; Lisa Hughes, St. Mary Catholic Comm. School; Rachel Hurst, Meals on Wheels of NWI; Richele Kaiser, Mental Health America; Pamela Key, Women Organizing Women

Denise Mavity, Old Sheriff's House; Barbara Muckel, Dream Chaser NWI; Emma Rose, Challenger Learning Center; Amy Stevens, Dream Chaser NWI; Catisha Toney, Coates, Inc; Allyson Vaulx, Food Bank of NWI
Not pictured:
Antoinette Brumfield, FAITH CDC
Anthony Burrell, The Welcome Network
Roger Cavazos, Int'l Institute of NWI
Elizabeth Gonzales, Respite Care Services
Vanessa McCloud, Urban League of NWI
Michelle Robinson, Cause 4Paws
Community Relief Resources
Lake County COVID-19 Emergency Grants for Nonprofits
Emergency relief grants for 501c3 nonprofit organizations, churches, and government agencies
https://legacyfdn.org/nonprofits/covid19-grant/
National Restaurant Association
Restaurant Employee Relief Fund
Salvation Army of Lake County
Rent/mortgage assistance, utility assistance, medication bill assistance, hygiene and toiletry products, food assistance
https://centralusa.salvationarmy.org/lakecounty
Geminus
Call 866-641-7181
Geminus Community Partners program has available funding to assist families who are in need of financial assistance affected by the COVID-19 Pandemic. This funding can assist with rent, utilities, baby needs, emergency food, etc.
Catholic Charities Diocese of Gary
Rent/mortgage assistance, utility assistance, gift cards for fuel, gift cards for medicine or medical supplies, gift cards for groceries, food distribution and delivery, diapers and baby food, counseling services
https://www.catholic-charities.org